Aeolian Sinfonia of North London
Welcome to our friendly amateur chamber orchestra based in Kentish Town.
Our summer term runs from
Thursday 28th April - Thursday 7 July 2022 (inclusive)
with a half-term break - no rehearsal on 2 June for the Jubilee weekend.
Concert at 8.30pm on Thursday 7 July 2022.
Our recent concert raised £1,000 in donations, split between CAFOD (the
Catholic Agency for Overseas Development)'s Ukraine Humanitarian Appeal
and UNHCR (the United Nations High Commissioner for Refugees). We are
very grateful to everyone who donated so generously, and particularly to
Christopher Evans for his financial contributions to this concert.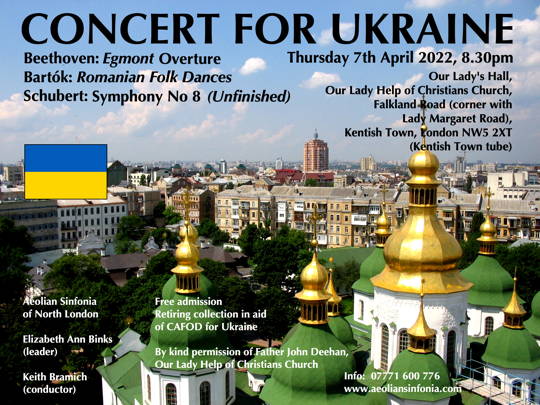 (click on the poster for a high resolution, printable version)
DOWNLOAD THE PROGRAMME NOTES FOR THIS CONCERT
Our encore was a Ukrainian polka, newly orchestrated for this concert.
There was no recording of this concert, but here is a computer rendition:
Quick facts:
Next concert:
Thursday 7 July 2022, 8.30pm
Mendelssohn, Brahms and Dvořák
Next rehearsals:
Thursdays 28 April - 30 June 2022
inclusive, all 7.45-9:45pm
(No rehearsal on 2 June)